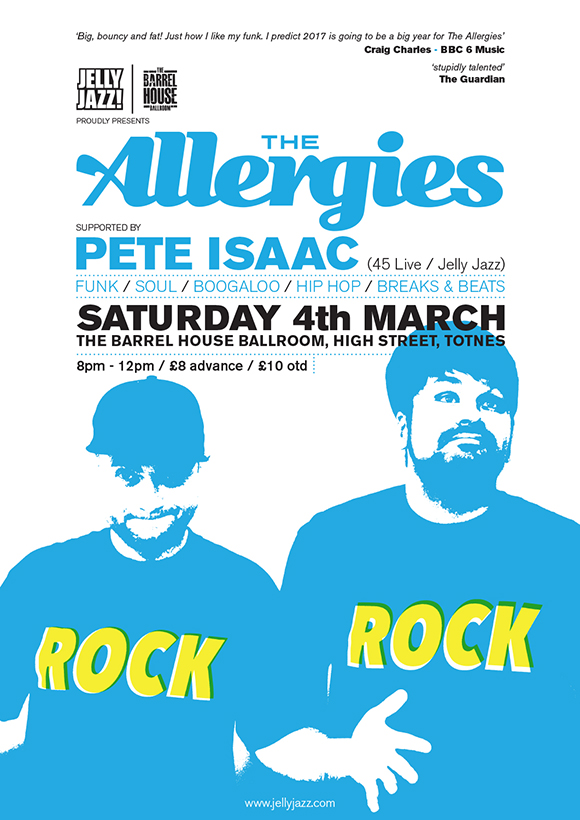 Jelly Jazz with The Allergies
Jelly Jazz proudly presents The Allergies, the block rockin turntable wizardry of DJs Moneyshot and Rackabeat.

Believe, these guys are absolutely amazing, and have been igniting dancefloors and festivals all over. The last time Jelly Jazz put them on together was at the Quay Club in Plymouth ages ago, and boy oh boy, what a night that was! Since then the lads have gone on to record their LP, gets tons of radio support and generally hone their already honed craft into something spectacular. If you like a DJ that 'get's busy', then these 2 do excatly that, yet keep it all the trickery firmly rooted in the groove, a big phat funky groove!

A definite DON'T MISS Jelly Jazz session
x
---

Jelly Jazz Stage @ The Masked Ball

The final T has been crossed, so we can now officially announce the full line up on the Jelly Jazz stage at The Masked Ball next May. Set across 2 days, we are hosting a veritable aural treat spanning funk, latin, D&B, hip hop, afro-disco soul and beyond. With top drawer headliners in the shape of D&B legend Dj Marky and MC GQ, rare groove royalty Norman Jay Mbe (who absolutely smashed it last year!), Boca 45 and DJ Woody in their Bocawoody guise as well as playing separate sets across the Jelly Jazz stage and the 45 Live stage, the mighty Spiritual South and DJ Cal Jader who'll be taking us on a global journey of rhythms, beats and grooves, and the unbelievable turntable wizardry of DJ Cheeba.
Backing this lot up are Aeon Stef Seven from France, my homeboy Dan Walters, Daytoner Breaks, Ollie Stratton, Ally Kidd Cameron and Pete Isaac.
More info & tickets here: http://www.maskedball.net/
---
Events
Keep up with where we're spinning rekkids around and about the place!
---